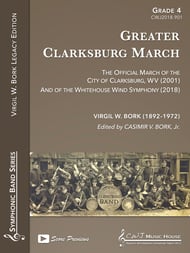 Greater Clarksburg March
Virgil W. Bork / Casey Bork, Jr.
- CWJ Music House
Publisher Desc.
It was an honor for CWJ Music House to have the privilege of restoring such a truly historic and enjoyable work of band literature. A collaborative project with the composer's grandson, Casey Bork, this march has been masterfully edited to ensure the composer's original intentions have been fulfilled. Complete with historical notes and biographical information, it is a tribute to the Bork family legacy, as well as the Official March of the City of Clarksburg, WV (2001) and the Whitehouse Wind Symphony of NJ (2018).
Select a Product
Customers Also Bought
MINTS