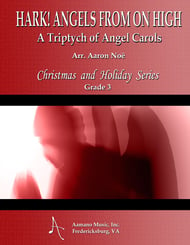 Hark! Angels From on High!
Aaron Noe
- Aamano Music, Inc.
Publisher Desc.
This holiday triptych features three of the most loved angel Christmas carols: Hark! The Herald Angels Sing, Angels from the Realms of Glory and Angels from on High. The selection opens with a brass fanfare which is carried through out the piece introducing each of the carols. This exciting holiday selection features a strong Timpanist. Hark! Angels from on High is a great opener or closer to any holiday concert.
Select a Product
Customers Also Bought
MINTS