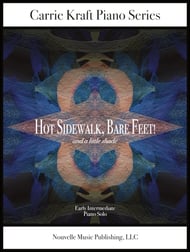 Hot Sidewalk, Bare Feet!
Carrie Kraft
- Nouvelle Music Publishing, LLC
Publisher Desc.
Step lightly and move quickly on that hot sidewalk if you are walking with bare feet! The quick movement of this early intermediate solo is emphasized with eight note staccato phrases. Just as quick as the rhythmic movement is the harmonic restlessness. An analysis of this solo will provide insight for the performer into the composer's creative process of play with regards to its key and how an opening motif can organically develop and influence all that comes after it.
Select a Product
Customers Also Bought