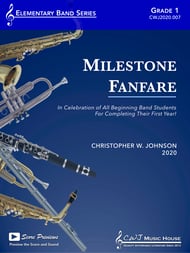 Milestone Fanfare P.O.D.
Christopher W Johnson
- CWJ Music House
Publisher Desc.
Let your beginning band students shine this concert season with this new work for elementary band. Combining a catchy beat with a powerful theme, this resounding fanfare is sure to bring out the best in not only the trumpets but the the band as a whole. Milestone Fanfare is dedicated to all beginning band students for completing their first year of instruction with dignity and honor, especially during the COVID-19 Pandemic. This is for THEM! Highly recommended!
Select a Product
Customers Also Bought
MINTS