Mister Sherlock Holmes
(A One-Act Musical Mystery inspired by characters and stories of Sir Arthur Conan Doyle)
Darryl Bojanowski / arr. Seth Jordan Butler
- TND Musicals, LLC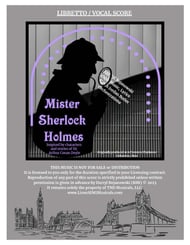 Mister Sherlock Holmes
(A One-Act Musical Mystery inspired by characters and stories of Sir Arthur Conan Doyle)
Darryl Bojanowski / arr. Seth Jordan Butler
- TND Musicals, LLC
Publisher Desc.
SYNOPSIS: It is London in the late Victorian era, and someone is busting busts. Busts of Napoleon. The likely culprit is none other than London's Napoleon of crime, Professor Moriarty. And if Moriarty is involved, Sherlock Holmes is certain to be on the case. And if Holmes is there, his equally famous chronicler, Doctor Watson, must be there as well. Add 221B Baker Street housekeeper Mrs. Hudson, Abigail Martin, Moriarty's flamboyant cousin from Chicago, and the loyal and ebullient Baker Street Irregulars and you have a tuneful yet engrossing musical mystery. Next stop, London! Columbus Dispatch Theatre Critic Michael Grossberg's review headline reads "No mystery about Holmes' - it's (a) fine musical."
CASTING: 4 adults (3 M, 1 F) with doubling, 2 featured teen roles - 1 M and 1 F, 4-10 pre-teen/teen ensemble; OR 6 adults (4 M, 2 F) without doubling with same featured teen & ensemble roles. Additional children may be added to the Baker Street Irregulars
ORCHESTRATION CHOICES: 1) 15-piece orchestra OR 2) Piano/Keyboard and Percussion OR 3) Performance .mp3 Tracks. All three choices are included!
SONGS INCLUDE: "The Cobblestone Streets of London Town"; "Call On Us"; "Dear Watson"; "Oh, Mister Holmes"; "I Had Dreams"; "The Truth"; "It's Hard To Know Just Who Your Friends Are" PERFORMANCE TIME: approx. 50 minutes More information at www.LicenSINGMusicals.com
Libretto / Vocal Book (integrated) Casting/Vocal Ranges, Synopsis, Performance Tracks Guide
***18 copy minimum Purchased Separately*** $10./copy
INCLUDED in the $370 PRODUCTION PACK (Materials digitally delivered to print what you need):
Piano / Vocal Score Casting/Vocal Ranges, Synopsis, Scenes and Songs List, MP3 Tracks Guide
Full Orchestral Score (not just cues!) with Keyboard Patch List and Percussion List
15 Instrumental Part Books:
REED 1: Flute; REED 2: Oboe, English Horn, Alto Saxophone; REED 3: Clarinet in Bb, Tenor Saxophone
REED 4: Bassoon BRASS: Trumpet in B♭, Horn in F, Trombone
STRINGS: Violin I, Violin II, Viola, Cello, Bass PIANO; KEYBOARD; PERCUSSION
Director's Script
Complete Show .mp3 Digital Orchestra Performance Backing Tracks
Director/Educator Production Resources
a. Writer's Perspective about Mister Sherlock Holmes
b. Costume Notes with production photos
c. Set Design Notes
d. Prop List
e. Study Guide for Director, Cast, Teachers (includes Lesson Ideas, more)
f. Promotional Tools: 1) Logo 2) LINK to EDITABLE SHOW PROGRAM in Canva for the theatre/school to insert their production information 3) Promotional Trailer - contact us with your information and we will customize the Official Trailer and send you the link to share!
Producing a TND Musical features FLEXIBLE instrumentation choices:
1) Full Orchestra – 15 Instruments OR 2) use Piano, Keyboard and Percussion
OR 3) use .mp3 Performance Backing Tracks (full digital orchestration)
----------------------------------------------------------------------------------------------------------------------
Rehearsal Live Share is an ADD-ON Vocal Rehearsal program for a small extra cost: Piano with vocals is played digitally while karaoke-style lyrics are displayed for interactive learning. To activate this feature, and in cooperation with Realtime Music Solutions (RMS) at least one person from the producing organization (usually the music director) must subscribe to Rehearsal Live Share for $15 a month. When your show is over, you can cancel the subscription. It's an exciting way to learn all the songs! Phones and Tablets use a free App; Laptop/Desktops use a free download. A Picture Guide to the features of Rehearsal Live Share is included and links to set up your account.
Performance Licensing Rights are available to ALL theatrical and educational theatre companies of any size or designation which meet the following criteria: when this musical is performed in a setting that does not charge any admission or any fees related to the performance, OR is a SCHOOL production, the original purchaser of the Production Pack and the minimum Libretto/Vocal Books is granted a nontransferable license that includes mechanical, synchronization and streaming rights for one run of the show.
Professional Theatres - Equity, LORT, or Regional - and any theatre which DOES NOT meet the criteria above, must complete a licensing contract directly with TND Musicals. Send an email request to [email protected] and include your theatre name, your contact information, Show and Performance Dates requested, Average Ticket Price and Maximum Seating Capacity up to 300 to receive your licensing contract info. Use the online Calculator at www.LicenSINGMusicals.com for an estimate
Select a Product
Customers Also Bought