National Core Arts Standards for Music Ensembles: Planning and Assessment
Elizabeth Caldwell
- Organized Chaos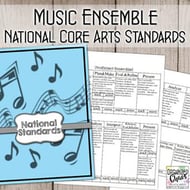 National Core Arts Standards for Music Ensembles: Planning and Assessment
Elizabeth Caldwell
- Organized Chaos
This is the perfect planning tool for teachers implementing the new National Core Arts Standards in music ensemble classes - choir, band, and strings, from beginners through the end of high school. Use it as a checklist to make sure you are covering each standard, or plan your teaching and assessment of each standard by marking the date for each directly on the form. The entire document comes in PowerPoint for easy editing and printing.

Pages are organized by ensemble level and anchor standard, with space to note teaching and assessment of each area within each anchor standard. All of the standards for each level fit onto a two-page spread for easy viewing and planning. Check out the preview to see an example of the layout.

The ensemble standards are labeled by level rather than grade, since different school districts start ensemble classes at different grades. A PowerPoint version of the file is included so you can label each level with your corresponding class title.
Select a Product
Customers Also Bought