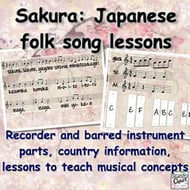 Sakura: Japanese Folk Song Lesson Set
Elizabeth Caldwell
- Organized Chaos
This lesson set is a wonderful resource to add to your world music collection. Use it to teach students about pentatonic and minor music with slides showing the solfege, create an Orff ensemble piece with barred percussion borduns, teach low C, E, and F on recorder, identify same and different musical phrases, and learn the Japanese language and culture. The song Sakura is the most famous Japanese song around the world. This lesson set includes everything you need to apply the song to a variety of concepts in your classroom, as well as information about Japan and the importance of sakura (cherry blossoms) in the culture.

This set includes:
Visuals to teach the text, its pronunciation and translation
A recorder harmony part (low C, E, and F); fingerings for low C, E, and F (Baroque and German fingerings included for F)
Borduns for two Orff barred percussion parts - same and different phrases
Background information about the country and sakura
Pentatonic scale (shows solfege with icons)
Major vs minor
Audio recordings of a native speaker speaking each word of the text, as well as a sung recording.

Includes PowerPoint and PDF versions of the visuals, with plain and colorful background versions to use as projections, handouts, or worksheets
Select a Product
Customers Also Bought