The Canterville Ghost
(Musical Theatre Production)
Darryl Bojanowski
- TND Musicals, LLC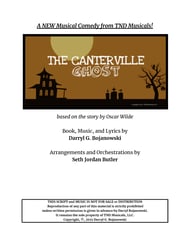 The Canterville Ghost
(Musical Theatre Production)
Darryl Bojanowski
- TND Musicals, LLC
Publisher Desc.
Based on a short story by Oscar Wilde, The Canterville Ghost, new from TND Musicals, LLC, is a small cast musical comedy (3 women, 1 man, 1 female teen and 2 "twin" girls [or boys] about 10 years old, 1 "extra," and an optional cameo for a cat) set in England in 1887. Synopsis: Sir Simon has haunted the manor house at Canterville Chase for four hundred years, successfully scaring off everyone who wanted to live there. He has done his job with theatricality and style. When a family of Victorian-era Americans decides to move in, he expects it to be the same, but the Otis family has other plans. The parents are less frightened of him than they are inconvenienced by his chain-rattling and moaning. And their 10-year-old twins like nothing better than teasing him with their pranks. Poor Sir Simon is at his wit's end. What can he do? It all comes to a surprising and touching end when the 14-year-old Otis daughter takes pity on him and restores peace to Canterville. Columbus Dispatch Entertainment Reporter George Myers, Jr.'s review observes "acting ghoulish and spooky full time is a ghastly, tiresome business after three centuries, but forlorn Simon de Canterville - still the ghostest with the mostest - shakes, rattles and rolls on."
Orchestration Choices: 1) 23 piece orchestra OR 2) Two Keyboards and Two Percussion OR 3) Performance .mp3 Tracks.
Songs include Welcome To Canterville Chase; Goblins and Ghosties; Red, White, and Blue Through and Through; The Star of Canterville; There Is A Little Garden and more.
Performance time: approx. 70 minutes (recommended no intermission).
More information at https://licensingmusicals.com
Important information - Please read
Select a Product
Customers Also Bought