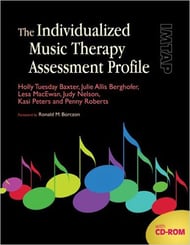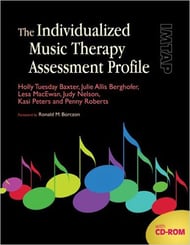 The Individualized Music Therapy Assesment Profile
Various
- Jessica Kingsley Publishers
Publisher Desc.
The Individualized Music Therapy Assessment Profile (IMTAP) is an in-depth assessment protocol developed by a team of six experienced music therapists. Designed for use in pediatric and adolescent settings, it provides a clear profile of each client over time. The accompanying CD-ROM allows the therapist to store client details, and to create charts showing progress and areas to work on.

The book includes sample assessment sessions and examples of activities and interventions. The IMTAP may be used on a variety of levels:

* as a treatment plan for music therapy work

* as a tool to develop goals and objectives

* as a means to address and assess targeted skill sets

* as an indicator of overall functioning to provide a baseline for treatment

* as a research method

* as a communication tool for parents and healthcare professionals.

The IMTAP is simple to use and yields detailed information on client abilities and functioning from intake through treatment planning. It identifies effective strategies for each client, making it an essential tool for students and professionals in the field of music therapy.
Select a Product
Customers Also Bought